Struggling to get creative and artistic is now a thing of the past with 'Love Is All Around'. This charming and colourful Paint By Numbers will help you de-stress and relax from a busy day more effectively than meditation. 
It even comes gesso-primed so you don't have to prep the canvas, and printed lightly to minimise numbers and lines showing through. You can Feel Good and Do Good: part of every purchase is donated to ReachOut Australia, helping you be part of a community that supports young Aussies battling mental health issues.
Other Details:
- 6 brushes in a kit
- Safely packaged to protect against adverse weather during transit 
- 30-Day Return Guarantee
Included in the Paint and Flow kit:
Ready to paint, premium quality canvas size 45x50cm
1x Acrylic based paint set
Paint brush set containing 3 different sizes
Picture Reference
Join the Paint and Flow Family 
Fun Hobby 
Great gift idea 
Get social and reconnect
New Artwork for your home 
Increase creativity and motor skills 
Reduces anxiety and stress, creating a zen state of mind
Customer Reviews
Kristy D.

Australia
I recommend this product
06 Sep 2021
Amazing
I absolutely loved P&F. To the point I ordered another one and now again another one. I find it to be calming and relaxing and this has helped me through extended lockdown. My only comment would be in some cases there was not enough paint to cover properly which needed then to be watered down creating a different consistency on the canvas. Overall though LOVE LOVE LOVE ❤
Emily P.

Australia
I recommend this product
18 Jul 2021
Love is all around for Paint and Flow !!
I had so much fun doing this. The canvas arrived in a tube so it didn't need folded lines to be pressed out of it and the paint brushes and paints were great quality. There was also enough of each paint provided to get the painting done. It also came with a paper copy of the painting so you could check the numbers of needed. I had great fun doing this and I think the end result is lovely. Ordering was easy and the painting arrived nice and quick which was great for lockdown. Customer service reps are also super friendly and more than happy to help. I would have no hesitation in recommending them !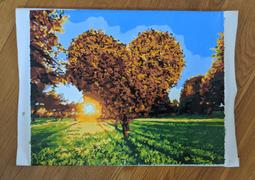 Josie

Australia
I recommend this product
30 Nov 2020
Great experience!
Easy business to deal with and very quick to dispatch my purchase. So excited to get started!!