With a design inspired from the beautiful beach boxes found at Brighton Beach in Melbourne, Aussie, Aussie, Aussie is the perfect calming, colourful and creative painting project that is sure to be a fun and pretty addition to your home decor.  
Printed lightly on gesso-primed canvas to ensure smooth finish as well as minimise lines and numbers showing through paints, this Paint By Number is perfect Melbournians, beach lovers or anyone inspired to create a painting with bold, vibrant colours. 
The best bit: as you start to feel good and relax from the flow of painting, you will also be doing good since part of the proceeds from purchase will be donated to ReachOut Australia to help support young Aussies battling mental health issues.
Other Details:
- 6 brushes in a kit
- Safely packaged to protect against adverse weather during transit 
-
30-Day Return Guarantee
Included in the Paint and Flow kit:
Ready to paint, premium quality canvas size 45x50cm
1x Acrylic based paint set
Paint brush set containing 3 different sizes
Picture Reference
Join the Paint and Flow Family 
Fun Hobby 
Great gift idea 
Get social and reconnect
New Artwork for your home 
Increase creativity and motor skills 
Reduces anxiety and stress, creating a zen state of mind
Customer Reviews
AMANDA b.

Australia
I recommend this product
30 Aug 2021
So happy with my first purchases, gone back for more!
Excellent Customer Service. Quick response to enquiries. This is my second purchases from Paint and Flow. I'm not an artist , but I'm really enjoying the sense of accomplishment . I even had my first one framed and it's up on my loyngeroom wall. I found the brushes a bit hard to use, so I bought some other sized brushes.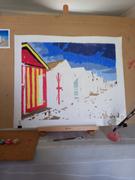 Theresa R.

Australia
I recommend this product
04 May 2021
Happy customer
I received Aussie, Aussie, Aussie yesterday. It came beautifully packaged in a cardboard tube. The canvas was great, the lines and numbers were clearly marked and not too dark. It also came with a personally written card from the owner Pam, which was a nice touch. Altogether a great experience. Thank you. I will enjoy painting this one. It will be a gift for my partner for his birthday.