When you want to be creative AND not spend a fortune in art classes, Paint By Numbers is the answer to a calming new hobby that will de-stress and awaken your innate artist! 
Imagine a Do-It-Yourself project which not only helps you relax but also gets you to create an amazing painting that really shows off your love of animals - while never having to worry about how to start or think 'I'm not artistic' ever again.
The best bits in a nutshell:
- Lighter Printing – meaning the numbers and lines are more easily covered by the paints
- Gesso Primed  – so you don't have to prep the canvas and can start painting as soon as the postman delivers your kit
- Feel Good, Do Good  – helping you be part of supporting young Aussies battling mental health issues as your purchase is contributing to our monthly donation to ReachOut Australia
Other Details:
- 6 brushes in a kit
- Safely packaged in a round tube 
- 30-Day Return Guarantee
Watching And Wishing is a dreamy paint by numbers kit that is fun and a great DIY art project for animal lovers. Difficulty level is easy to medium, with a good combination of small and medium/large sections. 
Included in the Paint and Flow kit:
Ready to paint, premium quality canvas size 45x50cm
1x Acrylic based paint set
Paint brush set containing 3 different sizes
Picture Reference
Join the Paint and Flow Family 
Fun Hobby 
Great gift idea 
Get social and reconnect
New Artwork for your home 
Increase creativity and motor skills 
Reduces anxiety and stress, creating a zen state of mind
Customer Reviews
Gabby

Australia
I recommend this product
15 Mar 2021
More fun than a puzzle and a great keepsake when completed.
As soon as I saw this picture I wanted to do it. Was my first paint by numbers and I really enjoyed it, I found it surprisingly relaxing. The personalised card I received with it was also very thoughtful. I'm really happy with the product and stoked with my efforts even if it is a little scratchy!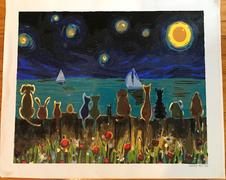 Lisa E.

Australia
I recommend this product
ALISON M.

Australia
I recommend this product
21 Feb 2021
Birthday present gratefully received
Great! Packaged nicely and given to birthday girl today!